8th May 2020
A Sparkling Future – Salute to 55 Years of Partnership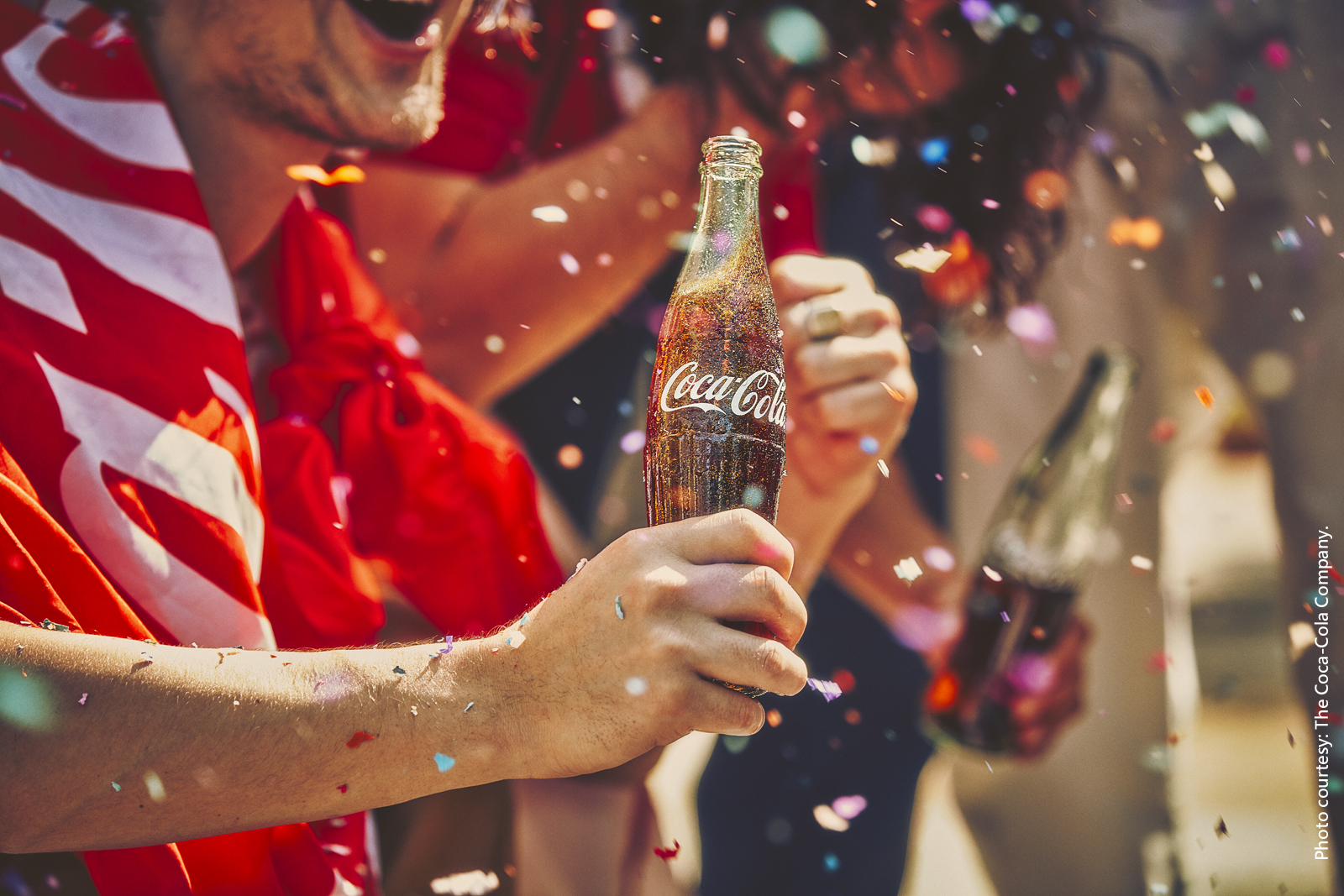 (Source: SwireNews, Issue 02/2020: Centre Stage)
As Swire and Coca-Cola say "cheers" to 55 years of partnership, we talk to passionate advocates on both sides about what makes the relationship work and how they're preparing for the next chapter in their growth story.
"I can't think of anything quite like it in the business world." Pat Healy, Chairman of Swire Coca-Cola, isn't one to mince his words when it comes to describing Swire's 55-year partnership with one of the world's biggest beverage companies and brands.
To say that the partnership has endured well into its sixth decade would be an inadequate description. Rather, it has grown and prospered in ways that could scarce have been imagined when, with the acquisition of Hong Kong Bottlers Federal and its Lai Chi Kok bottling plant, in 1965, Swire became the franchised bottler and distributor of Coca-Cola and its brands in Hong Kong.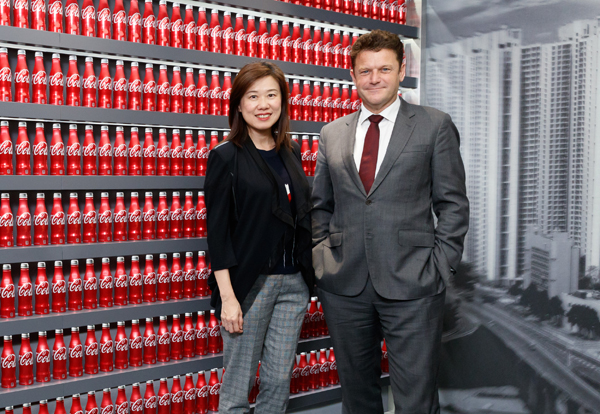 Today, Swire partners The Coca-Cola Company in four markets – Mainland China, the United States, Hong Kong and Taiwan – and serves a franchise population of 736 million customers. Under its franchise model, The Coca-Cola Company is responsible for brand development, core marketing, consumer research, portfolio, R&D and manufacture of the beverage base for its products. Bottling partners take care of bottling, packaging, distribution, customer relationships and commercial execution.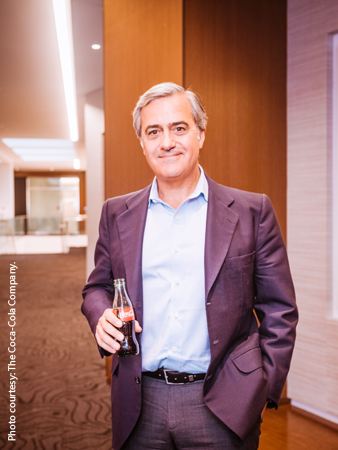 Expanding on what he calls "an incredibly effective symbiotic relationship", Healy comments: "The global bottling system has given Coke an edge in global expansion which is reflected in its speed to market. The exact system and formula varies across different markets, but it ensures both partners are aligned to work together to drive value." He adds: "Coke's absolute commitment to its global partners underpins its global success. These relationships are built on decades of mutual trust."
That sentiment of mutuality and common goals is echoed by Manolo Arroyo, The Coca-Cola Company's Asia Pacific Group President and Global Chief Marketing Officer. "Swire and The Coca-Cola Company share a common set of values and growth behaviours," he says. "In my view, the secret formula for our strong and long-standing partnership is a shared purpose – to refresh the world, and to create a more sustainable business and better shared future that makes a difference in people's lives, communities and our planet."
Following exceptional revenue growth in 2019, Healy and Arroyo are agreed that huge opportunities lie ahead for further growth across all of Swire Coca-Cola's markets. But they are also conscious that this year's milestone offers the chance to celebrate the journey so far and to reflect on how the wealth of experience gained can anchor and shape strategies for future success.
Scaling up
The world of 1965 was, of course, very different to that of today. One small detail is that Hong Kong's vendors took delivery of Coke from yellow trucks. These were later replaced by vehicles in Coca-Cola red, but most of the operational differences between then and now are less cosmetic. From bottling and distributing three beverages brands in 1965, Swire Coca-Cola now has 61 in its stable, from sparkling drinks such as Coke and Sprite to juices, energy and wellness drinks, teas, water and more. It has gone from having one bottling plant to 26 (18 in Mainland China, six in the US and one each in Hong Kong and Taiwan), and produces more than 400 times as many cases of beverages as it did when it started. Today, Swire Coca-Cola is the fifth largest bottler by volume in the global Coca-Cola system.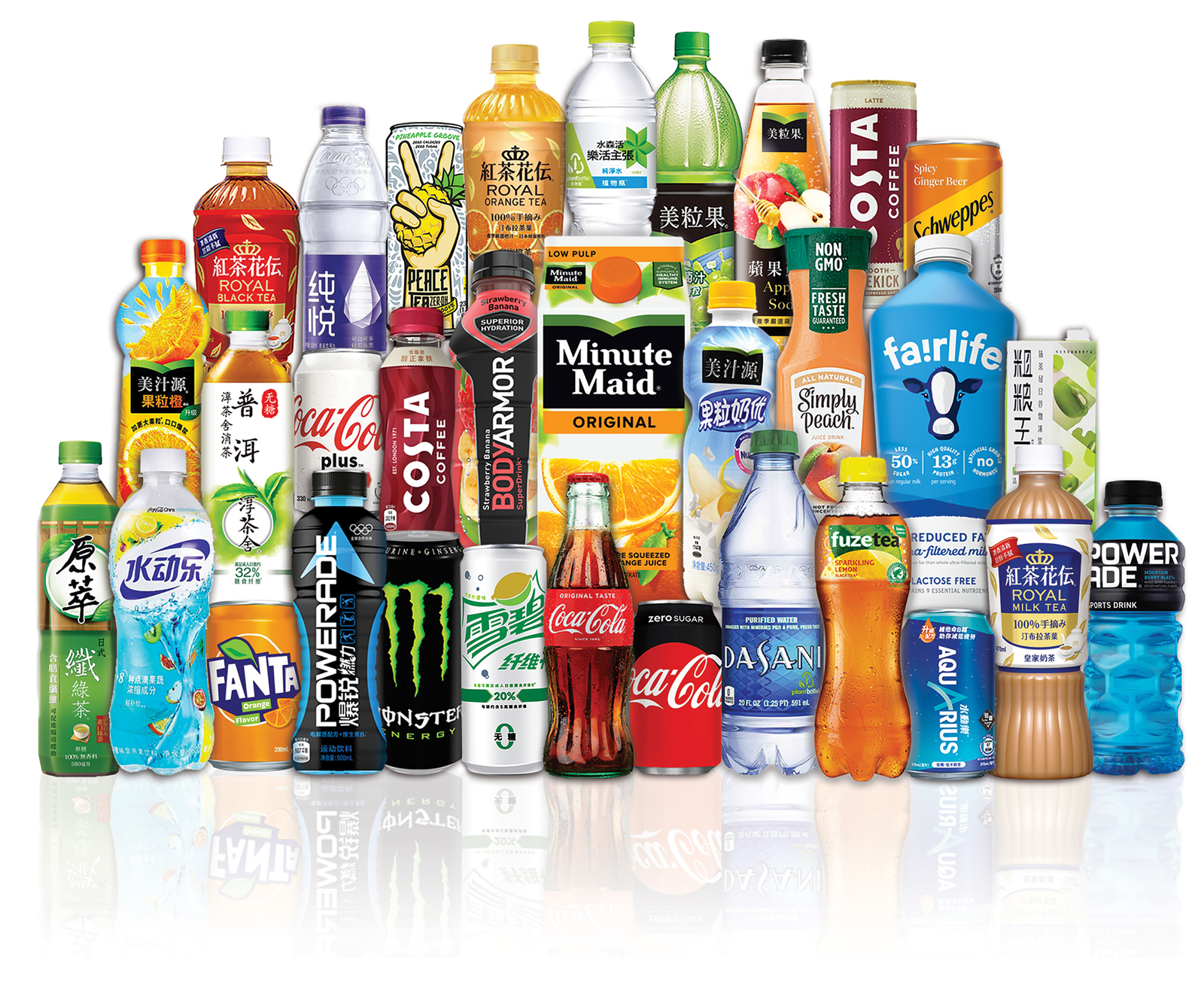 Swire Coca-Cola offers an extensive portfolio of beverage products.
According to Karen So, who served as Executive Director – China Operations before taking up the reins as Managing Director of Swire Coca-Cola last year, three significant phases stand out in the partnership's growth trajectory. The first of these began in 1978 with the acquisition of the company's first Coca-Cola franchise in the US, and continued over the next decade with further expansion in the US market. That was followed by a watershed moment in 1989, when The Coca-Cola Company invited Swire to be its partner in the brand's return to Mainland China.

So states: "The third and most recent phase has been with our recent expansion in the USA, between 2014 and 2017, and Coca-Cola's re-franchising in China in 2017. Those developments have grown our franchise population in the USA almost five-fold, from six million to 29.8 million people, and increased it by more than 60% in China, from 420 million people to 674.9 million people. In both markets the company now operates larger contiguous territories, which introduces better economies of scale into our supply chain and many other aspects of our bottling operations. Against this backdrop, we've been able to focus our strategic priorities and deliver impressive revenue growth."
An appetite for change
If there is a stand-out indicator of what might power the next phase of Swire Coca-Cola's sales growth story, Healy describes it neatly. "Per capita consumption today in our Mainland China territories is less than 50 servings of our beverages per person per year," he says. "In Hong Kong and the USA that number is over 200. So the opportunities for growth in China are enormous as we expand our portfolio across many new categories of soft drinks – coffees, teas, juices, waters, sports drinks, energy drinks, plant protein drinks and more besides."
As Arroyo puts it: "We're just getting started in China. With an urban middle class of 400 million with tremendous spending power, and new emerging economies in rural cities and towns, China remains one of the major engines of global growth for the future."
For So, the long-term growth outlook for the global beverage industry is enormously positive. She comments: "The global market's total retail value is $1.6 trillion. Not only is there great scale, but the Non-Alcoholic Ready To Drink segment ("NARTD") is growing at 4.3% per annum – faster than packaged foods and household products."
What is also clear is that higher market share awaits those operators who are best able to leverage digitalisation and technological innovation. "Digitalisation is one of our core strategic priorities, particularly in the Mainland China market where there is a strong appetite to embrace digital change," says So. "It is very exciting to be operating in such a dynamic market right now." She expands: "On the supply chain side, we have been using digital tools to assist with our planning, to monitor the performance of our manufacturing facilities and to track our logistics operations. With regards to in-store execution, one key tool is our mobile sales force application, which helps boost the effectiveness of our fantastic sales force. We're also using image recognition to grow our share of visible inventory – by collecting real-time data on in-store operations, the technology tells us about consumer purchasing trends and allows us to fine-tune our marketing and operations accordingly. Another key competitive advantage is that we have the world's largest fleet of connected coolers."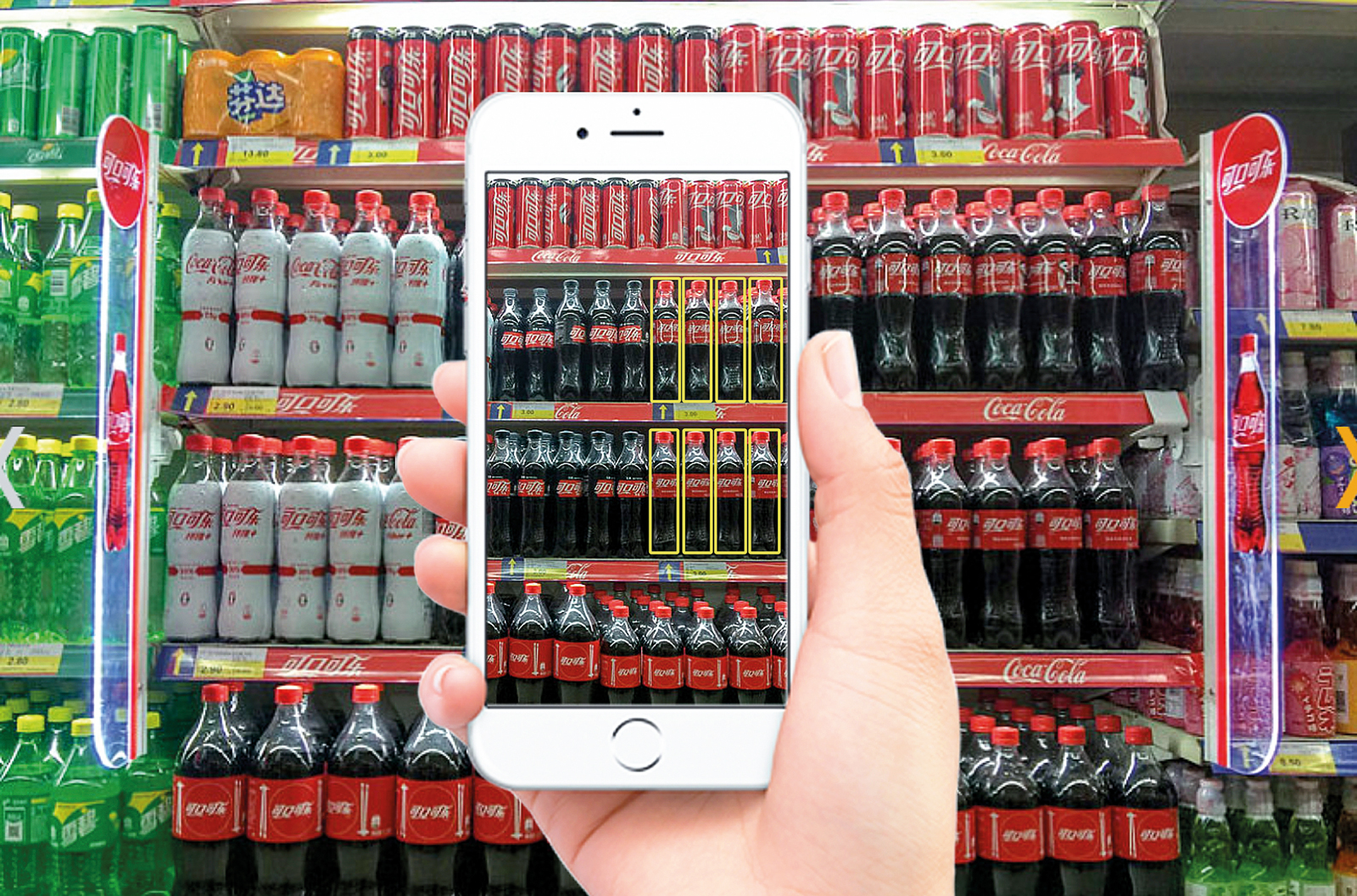 Swire Coca-Cola uses image recognition technology to collect information about consumer preferences.
She also believes current consumer trends highlight very specific opportunities for growth. These include the increasing popularity of functional beverages that boost physical performance, health or hydration, demand for smaller portion sizes, such as multi-packs and mini-cans, and a desire for more sustainable packaging such as the 100% rPET bottles in which Bonaqua is now sold in Hong Kong.

Says So: "Companies need to continue to innovate their products and then quickly reform their supply chain, sales and distribution systems to launch and support these products in the market. The organisation of the global Coca-Cola system encourages both rapid innovation – with one option being to 'lift and shift' successful innovations from one market to another – and a flexible supply chain, with partners of scale that are able to quickly support these new products."

Meanwhile, Swire Coca-Cola is focusing on sustainability, and will this year launch a comprehensive strategy, with key priorities focused around water stewardship, waste reduction and climate protection. This includes working to increase water efficiency and achieve a positive water balance in its operations, setting a target to recycle the equivalent of 100% of the packaging in which Swire Coca-Cola products are sold by 2030, and limiting greenhouse gas emissions from company operations to levels that are consistent with reductions required to keep global warming to below two degrees Celsius. There is also a drive to increase diversity and inclusion within the organisation, partly through implementing measures to promote equal gender representation at all levels of the business.
Toasting the future
Asked where Swire Coca-Cola will be in five years' time, when the partnership reaches its 60-year milestone, Karen So responds: "Our vision of success for 2025 is to be a leading bottler in the global Coca-Cola system. This is defined by having a leading market share in all our markets, sustainable revenue and profit growth, and world-class commercial execution – but also by us being a leader in digitalisation and sustainability."

Those yardsticks strike a chord with Pat Healy, who comments: "We continue to invest in everything from cold drink equipment to new production lines, new bottling plants, sales and distribution centres, fleet and digital infrastructure. This level of continuous investment speaks volumes for our confidence in the future of the bottling business." He adds: "Three factors common to all Swire businesses – an unrelenting focus on people that drives an undying team spirit, excellence in execution over time and across regions, and a focus on doing the right thing for long-term sustainable profit growth – are what has made the business successful and will continue to do so."

For his part, Manolo Arroyo observes that Swire Coca-Cola's strategy for sustainable success mirrors many of the commitments and targets adopted by the global Coca-Cola system. He remarks: "I'm deeply impressed by how Swire encourages a growth mindset and social conscience, which allows the team to adapt quickly to meet evolving market demands while always ensuring its business is held rightly to greater accountability and sustainability. "I firmly believe that our shared values and purpose will ensure the success of our partnership for the next 55 years and beyond."

Watch the latest corporate video of Swire Coca-Cola – "Times Change ‧ Our Passion Remains".